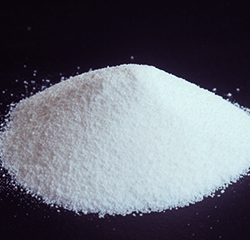 Chlorinated Polyethylene CPE
Chlorinated Polyethylene (CPE) is a high molecular weight polymer that is produced by the Chlorination of HDPE. It is a white thermoplastic elastomer in powder form. It has the properties of heat-resistance, weather-proofing, oil resistance, flame retarding, chemical resistance, ozone resistance, etc.
It can be used as an elastomer and can replace neoprene and is used in wire and cable, hose, tubing, and sponge applications.
For plastics modification, it is primarily used as an impact modifier and process aid for UPVC, largely used in the production of siding, plastics doors and windows, and pipe and tubing and to impact modify CPVC used in high performance extruded and molded applications.
We are supplied through Weifang Polygrand Chemical Co, Ltd, imported by Industech USA
See specific products information:


Contact us for more information.