SPECIALTY ELASTOMERS – PRODUCTS FOR THE RUBBER INDUSTRY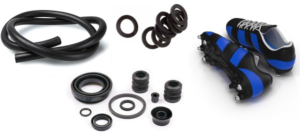 Paracril Nitrile rubber in bale form for general mechanical rubber applications, in crumb and powder form for adhesive, sealant and solution applications, and plastics modifications.
Fluoroelastomer copolymer, terpolymer, pre-compounded (cure incorporated), gums and curatives, and peroxide cure polymers.
CPE (chlorinated polyethylene) for rubber applications.
SBR in bale for general mechanical goods applications; Hot SBR in bale and crumb form for adhesive applications
Specialty inorganic Process aids: to improve flow, have better mold release, reduce scrap, obtain better pigment dispersion, and lower mold fouling
ADDITIVES AND PRODUCTS – FOR THE PLASTICS INDUSTRY
Rubber modifiers: Paracril nitrile rubber (NBR) in particulate forms, particularly for PVC and ABS modification
CPE particularly for PVC and CPVC impact strength modification and flame resistance.
SEBS for Thermoplastic Elastomer (TPE) applications and Thermoplastic resin modification.
Process aids: to provide injection molding cycle time reduction, increase extrusion output, and reduce scrap.
CONTACT US TODAY FOR FURTHER DETAILS!
Review our Rubber and Plastics Products
Click on the links below for more information and/or contact us today for further details.